Perfect for the summer, this list of homemade potato salad recipes will leave you wanting more! Delicious twists on the classic potato salad, these recipes are all easy to make and super delicious! Great make ahead side dishes for picnics, BBQs, pot lucks and weeknight dinners, choose from creamy, herby, spicy, and everything in between!
When it comes to summer time side dishes, you can not go wrong with a deliciously creamy, fresh and tangy potato salad. Simple to make, they are easy to add your own twist too and these are my best and favorite variations!
Gluten free and easy to make vegetarian or vegan, potato salad is a great versatile potato side dish that's great for a crowd and the perfect make ahead option. Whether you are into a creamy mayo dressing or a tangy vinaigrette, you'll find a delicious potato salad recipe here that will compliment your main meal perfectly.
Be sure to check out my air fryer potato side dishes and easy mashed potato recipes too!
Add-Ins
It's super easy to make your potato salad your own by adding in different ingredients for different flavor and texture combinations. The most basic potato salad recipe can easily be livened up with any of these additions:
Herbs: Fresh herbs can really lift a simple potato salad. Dill, parsley, chives and tarragon are our favorites!
Boiled eggs
Chopped celery
Cooked crispy bacon
Diced dill pickles
Diced bell peppers
Green onions
Shredded cheese
Capers
Olives
Make Ahead and Storage
Once made, your potato salad will keep well in the fridge for up to 4 days. I always try and make it at least 30 minutes before I'm due to serve it so that the flavors have time to develop.
It's not recommended to freeze potato salad, it won't do well upon thawing. If your salad contains a dairy-based dressing like mayo or sour cream, then it's best not to leave it out at room temperature for more than 2 hours.
Frequently Asked Questions
What are the best potatoes to use?
Pretty much all fresh potatoes are great to use in a potato salad, but will yield slightly different results. Waxy potatoes like reds, baby and fingerlings will have a firmer texture but more buttery flavor, whereas starchy potatoes like Russets and Yukon Gold will deliver a light and fluffy bite. Both are great, neither are wrong!
Are potato salads best enjoyed warm or cold?
This is totally down to personal preference, there is no right or wrong answer! You can serve the salad soon after making it so that it is slightly warm, or, make it ahead of time and serve it chilled from the fridge.
Do you have to peel the potatoes?
Personally I love the rustic look and added texture that potato skins add to a salad, plus I very much enjoy not peeling them! If you prefer, then peel away, if your potatoes have thick skins they will be easier to eat this way, otherwise, just give them a good scrub under running water to remove any loose dirt and you are good to go.
Serving Suggestions
A potato salad is a great alternative to other potato sides like roasted, mashed or fries in the summer. They are perfect for cookouts, but also a great accompaniment to your everyday weeknight dinners. Try them with some of these favorites:
Recipe Notes and Tips
Cut the potatoes into bitesized pieces to cook them, but not too small. If they are too small, they can become water logged and soggy when boiled.
Salt the water when cooking the potatoes. This will add flavor right from the start of cooking.
Start the potatoes in cold water and then bring the pot up to a boil. If you place the potatoes straight in boiling water they won't cook through evenly.
Take care not to overcook the potatoes, they should be fork tender but not falling apart.
If using a vinaigrette dressing, toss the potatoes in it while still warm. The potatoes will absorb more of the dressing this way and be extra tasty.
If using a mayo based dressing, be sure to let the potatoes cool for at least 10 minutes before tossing them. The heat from the potatoes can cause the mayo to split and you'll have an oily salad.
Easy Potato Salad Recipes
Red Skinned Potato Salad with Dill
Simple and easy to make, this classic red skinned potato salad recipe is a must! Seasoned with fresh dill, it's perfectly creamy.
Check out this recipe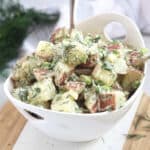 Creamy Potato Salad with Peas
This creamy potato salad with peas and red onions is so simple and easy to make and is the perfect warm weather side dish that the whole family will enjoy.
Check out this recipe
Cold Mashed Potato Salad
This cold mashed potato salad is perfect for your summer feasts! Easy to make, it's wonderfully creamy and tangy, and a real joy to eat!
Check out this recipe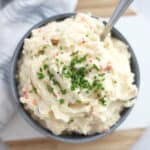 Creamy Cajun Potato Salad
Spicy, creamy and crunchy, this Cajun potato salad recipe is wonderfully bold and flavorful. Simple to make and a must have for any cookout this summer!
Check out this recipe
Roasted Potato Salad
Simple to make and bursting with flavor, this roasted potato salad is all kinds of delicious. Dressed in a tangy mustard vinaigrette.
Check out this recipe
Chorizo and Trout Potato Salad
Get ready for the best ever potato salad! This no mayo potato salad is dressed in a simple vinaigrette and chorizo and trout provide a flavor explosion!
Check out this recipe
I hope that this list of delicious potato salad recipes inspires you this summer! So simple and easy to make from scratch, it's easy to add your own flair to this side dish classic!
More Potato Side Dish Recipes
If you've tried any of these recipes, be sure to let me know what you thought in a comment below!