If you are looking for a delicious salad side dish, you can't go wrong with a homemade coleslaw recipe! Easy to make, you'll find a slaw recipe that's perfect for any occasion. Great for cookouts and BBQs, picnics and easy weeknight dinners, you'll find a coleslaw recipe that's just right for you! Whether you prefer a creamy slaw, healthy slaw, or something in between, these fresh recipes are sure to be a hit!
When it comes to side salads, you cannot beat a delicious coleslaw. Crunchy and full of flavor, great for a crowd, make ahead…it ticks a lot of boxes!
You are sure to find a slaw recipe to tickle your tastebuds here. From different veggies, creamy, spicy, or super healthy, you'll find a variation to suit your meal and tastes. All easy to make, they are a great accompaniment to any meal!
For more side dish inspiration, be sure to check out my air fryer potato recipes and mashed potato recipes too!
Frequently Asked Questions
What is a coleslaw mix made of?
The main ingredient of a traditional store bought coleslaw mix is shredded green (white) cabbage, depending on the brand you buy, it may also include grated carrot, and a small amount of red cabbage. You can also buy variations, broccoli slaw mix is very common.
Is coleslaw a healthy salad?
Generally speaking, coleslaw is as healthy as the dressing you put on it! Creamy mayonnaise based dressings will add fat and calories, so if you are concerned about those things, opt for a Greek yogurt or vinaigrette dressing.

Made with fresh veggies, they are a great source of antioxidants, vitamins and minerals, and they tend to be low carb and keto friendly. All of the recipes below are also gluten-free.
How do you shred cabbage for coleslaw?
I find that the quickest and easiest way to shred a cabbage at home is with a sharp knife. Cut the cabbage in half, cut out the core, then cut the cabbage into fine strips. You can also use a madolin, food processor or a box grater. Check out this website for a step by step guide.
Serving Suggestions
Coleslaw makes for a great side for so many dishes from lots of different cuisines. Pile it high on Mexican tacos, serve it up on a Southern pulled pork burger or serve it alongside a piece of fresh Mediterranean seafood, there's no wrong place for it! Try it serving it up with some of these favorite mains:
Make Ahead and Storage
Most coleslaw recipes will keep well, covered in the fridge, for 3 to 4 days – I love to make a big batch and enjoy it over a few days.
Creamy slaws that contain dairy (those with mayonnaise or yogurt dressings) shouldn't be kept at room temperature for more than 2 hours and are not suitable for freezing. If you make one with a dairy-free dressing, you can freeze it for up to 6 months and defrost it in the fridge to serve.
Top Tips to Make the Best Coleslaw
Cut down on prep time by using a store bought coleslaw mix instead of shredding your own veggies.
If you are making your coleslaw from scratch, be sure to wash your veggies well.
Don't go too overboard on adding salt and sugar to your slaw. Add a little at first, taste before serving, and adjust if needed.
Let your slaw sit for 20 to 30 minutes before serving. This will allow the flavors to develop.
The Best Coleslaw Recipes
Cabbage and Apple Slaw with Honey Mustard Dressing
Easy and quick to make, this creamy cabbage and apple slaw is tossed in a honey mustard dressing for a side dish that is full of flavor.
Check out this recipe
Tex-Mex Slaw
Creamy, tangy, and a little spicy, Tex-Mex slaw is quick and easy to make and a delicious way to add some flavor to your plate.
Check out this recipe
Healthy Mediterranean Slaw
Made without mayo, this creamy Mediterranean coleslaw recipe is a healthier choice, but it doesn't skip on flavor!
Check out this recipe
Beet Carrot and Cabbage Slaw
A healthy beet slaw made with cabbage, carrots, walnuts and feta and tossed in an orange dressing. Easy to make and perfectly crunchy!
Check out this recipe
Creamy Brussels Sprout Slaw
Easy and quick to make, this Brussels sprout slaw is a perfect festive salad. Made with orange, pecans and cranberries, it's perfect for the holidays!
Check out this recipe
Broccolini Slaw
Creamy and tangy, this broccolini slaw recipe comes together quickly and easily with a few simple ingredients. This is a delicious twist on your regular coleslaw!
Check out this recipe
Cajun Coleslaw
Packed full of bold flavors, this cajun slaw is a simple and delicious side. Great for tacos and BBQ, it's perfectly creamy with just the right amount of spice.
Check out this recipe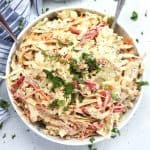 Creamy Red Cabbage and Carrot Slaw
This creamy red cabbage and carrot slaw is a great easy side dish that is ready in 10 minutes. Full of fresh and vibrant ingredients, it works wonderfully with pulled pork, chicken and Mexican tacos.
Check out this recipe
Fennel and Apple Coleslaw in a Creamy Mustard Dressing
This fennel and apple coleslaw recipe is a real treat for the tastebuds! Homemade and easy, this salad is covered in a mustard and mayo dressing.
Check out this recipe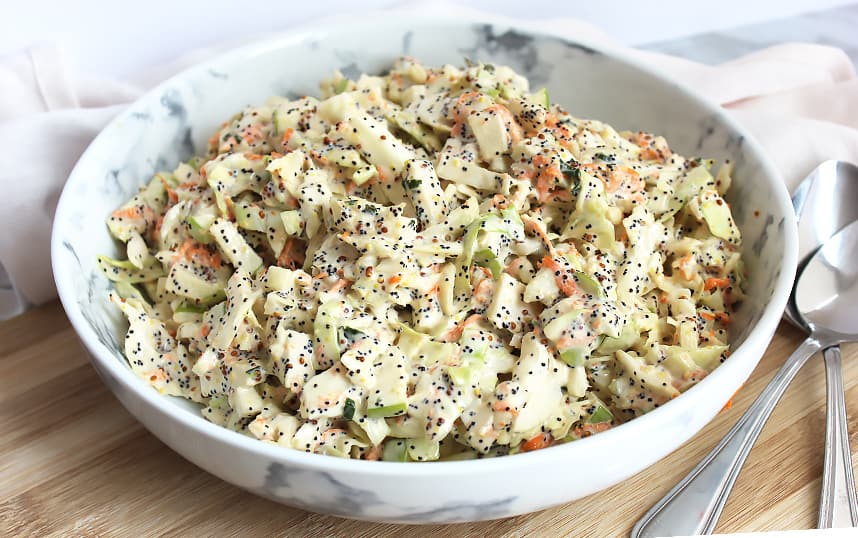 I hope this list of delicious, easy and homemade coleslaw recipes has inspired you to get into the kitchen!
More Salad Recipes