Last Updated on February 16, 2023 by Betty Davies
When it comes to comforting potato side dishes, mashed potato has to be right up there! Easy to make, these best homemade mashed potato recipes are delicious variations on a classic. This list of tried and tested recipes are simple ways to elevate this loved side, and includes dairy-free and vegan options too. Perfect to serve up as part of an easy weeknight meal, but tasty and fancy enough to serve at Christmas, Thanksgiving and family celebrations too. Be sure to bookmark this must have list of mashed potato recipe and get all the top tips to make the perfect mash every single time.
This post may contain affiliate links. Read my privacy policy here.
Buttery and creamy, simple mashed potatoes make for a delicious and easy potato side dish that works great with all of your favorite main meals. This list of recipes include super tasty variations on this classic that are easy to pair with easy, and fancy, dinners for any occassion.
Be sure to grab all of my top tips to make the best homemade mashed potato for the perfect side every single time!
Make Ahead, Storage and Reheating
Mashed potatoes are of course delicious to eat as soon as they are made, but they are a great option for a make ahead side dish, making them and excellent option for big feasts like Thanksgiving and Christmas when your kitchen is at it's busiest.
Refrigerate
Once you have made your mash, let it cool completely before storing in an air tight container for up to 3 to 5 days. You can reheat it straight from the fridge.
Freeze
Although potatoes don't usually do great when frozen, mashed potatoes are an exception, as long as they have been prepared with milk or cream and butter as this helps to protect them. Frozen mashed potatoes will keep well for up to 6 months. They should be thawed fully in the fridge before reheating.
Reheat
The best way to reheat mashed potatoes is in a pot on a stovetop. Heat them on a low medium heat, stirring occasionally so that they don't stick and warm through evenly. You may need to add a little milk or cream to the pot during the reheating to loosen them back up, as they will absorb moisture as they sit.
You can reheat them in a microwave if you prefer. Reheat in 1 minute increments, stirring in between, til heated through.
Frequently Asked Questions
What are the best potatoes to use for mash?
Starchy potatoes like Russets or Yukon Golds will make the lightest and fluffiest mashed potatoes. In the list below, you will fined a recipe for waxy red skinned potato mash. Waxy potatoes make a heavier mash, but they have a wonderfully creamy texture.
Do you have to peel the potatoes?
If I'm feeling particularly lazy, I will skip peeling my potatoes and just give them a good scrub to remove any loose dirt. The skins will add texture, so, if you prefer a smooth mash then you will need to peel them first. The skins are totally edible and also contain more fiber and nutrients, so it definitely won't do any harm if you skip peeling them.
What's the best way to mash potatoes?
It's important not to over mash the potatoes, as this can lead to them become gluey. A good potato masher works great, and a potato ricer will producer the smoothest and lightest results.
How long do you need to boil the potatoes for?
This depends on how large your potato chunks are, but it's best to allow for 15 to 20 minutes. Use a fork to check when they are cooked through, they should be tender but not falling apart. Overcooked potatoes can lead to a dry mash.
Tips to Make the Best Mashed Potatoes
Don't cut the potatoes too small as they will absorb to much liquid which can lead to watery mash.
Place the potatoes in a large pot of cold water to cook them, then bring them up to boiling. If you place the potatoes straight into boiling water, they won't cook through evenly.
Salt the water that you are boiling the potatoes in. As they cook, the potatoes will absorb the flavor so you won't have a bland taste.
The potatoes are ready to be drained when they are fork tender, but not falling apart.
Warm the butter and milk before mashing the potatoes. The potatoes will absorb them much easier when warm leading to a more flavorful mash.
Mash the potatoes while they are still hot, it's best not to boil them until you are ready to make the whole recipe.
If making ahead of time, let the potatoes cool fully before storing them covered in the fridge or freezer.
The Best Homemade Mashed Potato Recipes
Roasted Garlic Mashed Potatoes
Easy and quick to make these roasted garlic mashed potatoes are loaded with flavor. Made with 4 ingredients and quick to prep.
Check out this recipe
Wholegrain Mustard Mashed Potatoes
Creamy, rich and delicious, these wholegrain mustard mashed potatoes are made with simple ingredients and pack a punch in the flavor department.
Check out this recipe
Almond Milk Mashed Potatoes (Whole30, Vegan)
Vegan and whole30, these almond milk mashed potatoes are made with olive oil for a rich and buttery side dish that's dairy-free.
Check out this recipe
Monster Mash (Halloween Green Mashed Potatoes)
Add some color and fun to your Halloween dinner with these green mashed potatoes! This monster mash is easy to make and tasty too!
Check out this recipe
Boursin Cheese Mashed Potatoes
Fancy up your mash with creamy, rich and flavorful Boursin soft cheese. Simple to make, this potato side dish is a showstopper!
Check out this recipe
Red Skinned Mashed Potatoes
Made with creamy red skinned potatoes, this mash is a simple but indulgent side dish that perfectly buttery. Make ahead of time with just a few simple ingredients.
Check out this recipe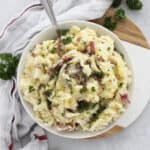 Air Fryer Mashed Potato Balls
Easy to make and quick to cook, these air fryer mashed potato balls are cheesy, crispy and so good! Perfect for using up leftover mash!
Check out this recipe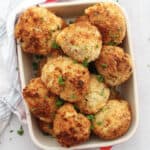 Cold Mashed Potato Salad
This cold mashed potato salad is perfect for your summer feasts! Easy to make, it's wonderfully creamy and tangy, and a real joy to eat!
Check out this recipe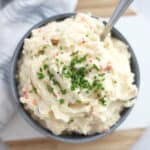 Leek Potato Mash
This leek potato mash recipe is an easy way to add flavor to your plate. Sautéed leeks and garlic are combined with creamy mash for a delicious potato side.
Check out this recipe
Cheesy Twice Baked Mashed Potato Casserole
If you are looking for indulgent and comforting, then this twice baked mashed potato recipe is for you! Perfectly cheesy, this oven baked potato casserole is creamy and flavorful and so easy to make. It's also a great option if you have leftover mash that you need to use up!
Check out this recipe
Blue Cheese and Bacon Mashed Potato
Blue Cheese Mashed Potato with Bacon amps up one of our favourite side dishes. Ready in 30 minutes, this side is quick and easy to make. Easily made ahead of time, this creamy and loaded mashed potato recipe is sure to please!
Check out this recipe
Rosemary Garlic Mashed Potatoes
Creamy and rich mashed potatoes are made with a rosemary and garlic infused cream for a delicious and easy steakhouse potato side dish.
Check out this recipe
Cheesy Garlic Mashed Potatoes
Made with cream cheese, parmesan and cheddar, these cheesy garlic mashed potatoes are indulgent and so delicious! Easy to make, they are always popular!
Check out this recipe
Air Fryer Mashed Potatoes
Rich, creamy, buttery and so fluffy, the air fryer makes the most perfect mashed potato every single time. Simple to prep and no peeling involved, this is an effortless way to make your mash. Potatoes are baked in the air fryer before being mashed with cream and butter for a deliciously indulgent side dish.
Check out this recipe
What to Serve with Mashed Potatoes
These homemade mashed potato recipes are so versatile! They are great to serve as part of an everyday family meal, but certainly won't be out of place at your Thanksgiving or Christmas table.
Mashed potatoes also work wonderfully served with gravy. Serve them up with some sausages and red onion gravy for a real comfort food treat, or try them with my mushroom gravy or bacon dripping gravy. However you serve mash, it's always a favorite!
More Potato Side Dishes
If you've tried any of these homemade mashed potato recipes, be sure to leave a comment below!