Last Updated on June 10, 2021 by Betty Davies
Rice is a staple side dish around the world, from Mexico to India, Italy to Brazil, and everywhere in between. These easy vegan rice recipes are delicious and easy ways to elevate this humble side dish into something wonderful. It's time to make rice the star of the show!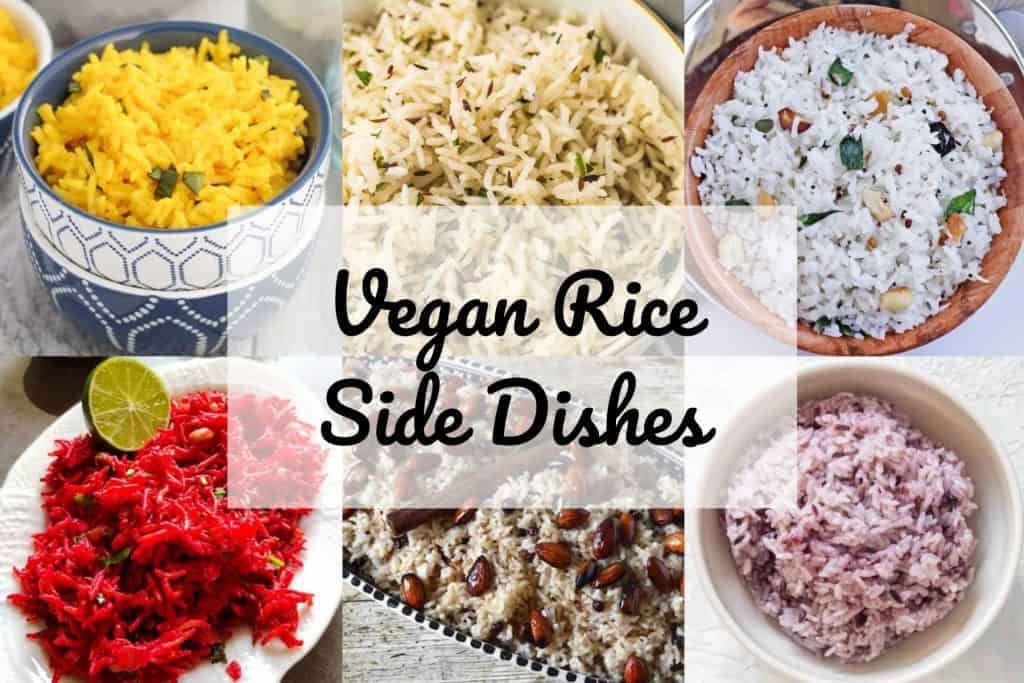 If you think rice is boring, it's time to think again with these delicious vegan rice side dish recipes!
In North America, people, wildly speaking, eat around two portions of rice a week. It's quick and easy, and works with some many different mains and cuisines.
Rice doesn't have to be boring through, it's so easy to add seasonings and other ingredients
Types of Rice
There are 3 main types of rice and many varieties. All have their own specific flavors, ways to cook and work in different types of recipes.
Short grain: Short grain rices are starchy and clump together when cooked. They absorb more liquid and it's really sticky. Sushi rice is the most common short grain and Spanish bomba rice is used to make paellas.
Medium grain: Arborio and carnaroli are medium grain rices and they produce a creamy rtaher than strachy texture. Most commonly used in risottos.
Long grain: Long grain rice include Jasmine and Basmati, and are most commonly used in Western cooking. These longer grains are less starchy and they form distinct grains that get light and fluffy.
There are thousands of varieties of rice, white, brown and wild being most common. All require slightly different cooking techniques and timings.
Can you swap brown and white rice?
In most recipes, brown, wild and white rice can be used interchangeably, but just be aware that brown and wild will require longer cooking times.
Is rice gluten-free?
Yes! Rice is naturally gluten-free, and all of these recipes are dairy-free and vegan.
Storage
Rice is a great make ahead side dish, it's great for meal prep, and if you have leftovers, they will keep well and can be reheated.
Refrigeration: Place the cooled rice in an air tight container in the fridge for up to 4 days.
Freeze: Once cooled, freeze the rice in bags or containers for up to 2 months.
Reheat: If using frozen rice, be sure to thaw it fully in the fridge overnight before reheating. Reheat rice on the stovetop with a couple of tablespoons of water, or in the microwave, again with a little water, for 3 minutes on full power. Make sure the rice is piping hot before serving.
Vegan Side Dish Rice Recipes
Serving Suggestions
Whether you opt of an Indian, Mexican or Middle Eastern vegan rice side dish, you'll need a main to pair it with! Try any of these delicious plant based mains for one delicious meal!
If you've tried any of these recipes, be sure to let me know what you though below!